Our pick of pottery gifts for Halloween lovers
Something wicked this way comes… here at Royal Stafford, we're embracing the spirit of the season and helping our customers to celebrate the sinister, the scary and the downright spine-tingling with our range of pottery gifts for Halloween lovers.
Whether you're planning a special Halloween party with friends and family (and need to show off some fiendishly good food) or you simply want an eye-catching centrepiece thanks to one of our striking signature designs, we've got you covered. (Although we can't promise we won't be using some truly terrible puns throughout this Halloween gift guide.)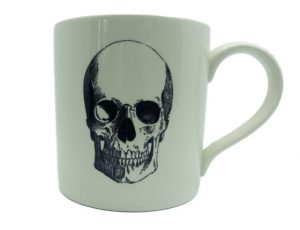 Halloween mugs
Anyone for a (witches') brew? Royal Stafford Halloween mugs are available in a choice of designs and are perfect for enjoying a cup of warm hot chocolate on a cold October day. You'd better hurry though, there are only a limited number available in our shop.
Serving ideas for Halloween party food
If you're thinking of serving a bone-chilling banquet to your friends and family, then our tableware is anything but terrifying. From pasta bowls featuring skulls and flowers to plates with ghoulish motifs, Royal Stafford pottery is a great way to complement and show off your Halloween party food.
Trick or treat
Why not start October 31 with a beastly breakfast from one of our Halloween themed cereal bowls? Smaller than our large pasta bowls, these dishes are also good for serving desserts or even sharing out trick or treat sweets.
However, if you're the last one to take out a sweet, don't look down – you might just be in for a skull-shaped surprise.
Pick up your pottery gift for Halloween at our factory shop
The Royal Stafford shop in Overhouse Street, Burslem, is where visitors can browse our full Halloween themed collection at reduced prices. Every piece is crafted in our Stoke-on-Trent factory next door to the shop, and once you've finished shopping, you can enjoy a coffee and cake at our on-site café.
For younger Halloween lovers, our Ceramic Café is also an opportunity to decorate an individual piece of pottery at one of our spooky-themed workshops. Contact us on 01782 525419 to book a place and ask us about availability.